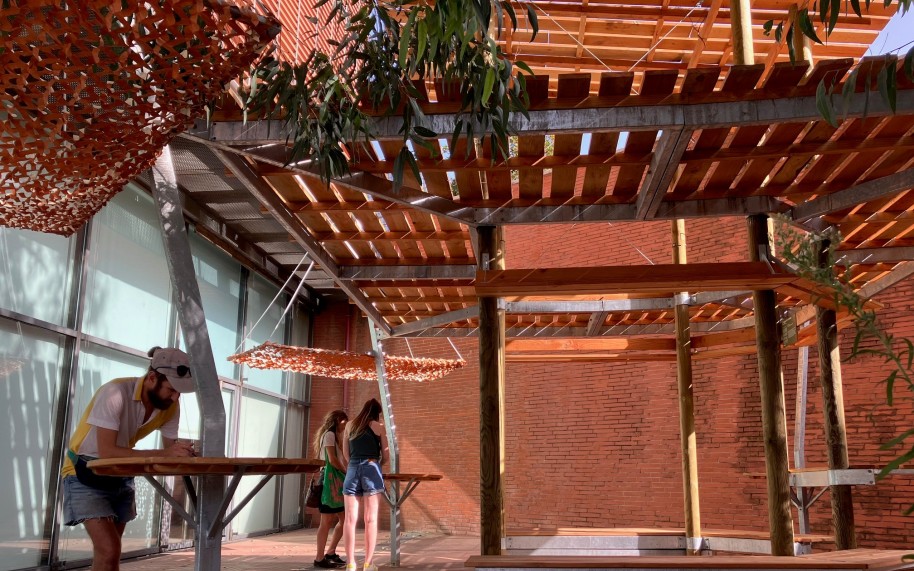 matali crasset's micro-architectures stay in Toulouse
We are delighted to announce that the Carrelet de la Garonne, a micro-architecture imagined by matali crasset, has found its permanent home in the Médiathèque José Cabanis.
The Moulin à la Nef will remain in the heart of the Saint-Cyprien district, in the Jardin Raymond VI, for the enjoyment of local residents.
Many thanks to matali crasset, who has donated her works and, at the same time, spaces to meet, relax and exchange ideas.
Le Carrelet de la Garonne : production Le Nouveau Printemps, 2023
created with the help of apprentices from the Bac Pro Technicien en Chaudronnerie Industrielle - UIMM Occitanie Beauzelle, the CAP Ebéniste from the Lycée des métiers d'art, du bois et de l'ameublement in Revel, and companies ZINQ Toulouse and METAMO.
Some of the materials used were reused as part of Toulouse Métropole's European #LifeWaste2Build program.
With the support of the Fondation des Artistes.
Le Moulin à Nef de la Garonne : une production Le Nouveau Printemps, 2023, realized thanks to the patronage of the association Les Amis du Nouveau Printemps - Toulouse (formerly Les Amis du Printemps de septembre)
With the help of students of the Diplôme de Technicien des Métiers du Spectacle at the Lycée professionnel des métiers du bâtiment Urbain Vitry and the company 3.14 Conception. Materials were partly reused as part of Toulouse Métropole's European #LifeWaste2Build program. With the support of the Fondation des Artistes